Never in a million years could I imagine that one day I would wake up and say, "Thank you for this illness" and mean it. I have been avoiding, resisting, and lamenting dis-ease and pain of any kind for most of my life. I don't know about you, but I don't do pain well.
Today I read the blog of a dear light worker friend about facing the shadows within. But what do you do when your shadow is embodied in physical pain?
This time the pain and limited movement lasted two full days and nights. Sleep was torture and pickleball out of the question (a monumental travesty in itself). In the wee hours of Saturday morning, I tried meditating – in child's pose. To anyone watching, it would have looked like downward dog on my knees. In the midst of my agony I remembered that this same thing had happened the last two times I was sick with a respiratory infection. It was a head cold for god's sake! So why did my back, hips, and IT Bands feel like they had been set ablaze?! If the pain had been everywhere, I would have chalked it up to body aches. But it wasn't.
Why does my back hurt when I have a cold?
Google to the rescue!
Mark Zawadsky, MD, and orthopedic surgeon at MedStar Georgetown University Hospital in Washington, DC., 'When you're sick with the cold and flu, stress hormones can potentiate the feeling of pain.' In other words, feeling sick can make you hyper-attuned to other aches and pains you might otherwise shrug off.
But there's more.
'When you have a cold, the body makes pyrogens, a byproduct of cell breakdown,' says John Stamatos, MD, director of interventional pain management at Syosset Hospital in Syosset, New York. 'While these pyrogens create fevers and help your body fight infection, they're also toxic to the body and contribute to that all-around achy feeling you get when you're sick.' That's because pyrogens tend to gather around nerves that transmit pain, which can heighten those nerves' ability to transmit the pain. So if you're already prone to an achy back, having a cold can worsen it.
Source: https://www.health.com/pain/4-weird-causes-of-back-pain
A-HA! Sorry, I couldn't resist throwing in the proverbial 'aha moment'. But last night's realization was more useful to me than learning how pyrogens make my back and hips hurt. Understanding that these little demons chemicals were exposing areas of chronic inflammation turned a light on for me. Dr. Joe Dispenza, Mingtong Gu, and many other alternative health practitioners have taught me that chronic inflammation leads to serious illness and disease. That is not something I am willing to sit still and wait for. Add to that the persistent presence of Hashimoto's Thyroiditis (since 2003) and I am looking at a bleak future physically, unless I decide to do something about it.
Now I have to back track just a bit. I have actually been dealing with some sort of back pain, somewhere in my back, since the 1990's. Once while water skiing, I threw my lower back out so badly that I was forced to walk bent over at a 90 degree angle until the chiropractor could right the wrong. The worst bout by far ran from mid-February to mid-March of 2016. It began the day I contacted a lawyer to file for divorce. Nothing physical had triggered that particular attack. It was all emotional, and it lasted longer than any other flare-up before or since (imagine a full month of not being able to tie your shoes, sit in a chair, lie down, or stand comfortably). Over time, I have learned to mostly block the pain from my awareness. Don't get me wrong, I often wake up too stiff to bend over. But in light of what the pyrogens taught me, perhaps that is a good thing.
After the attack in 2016, I began looking at my back pain with an eye to find the emotional energetic source of it rather than the physical one. My metaphysical friends know that all disease begins in the energy body where the chakras are housed, and that the main trigger for every disease is stress, be it emotional (like traffic or loss), or physical (GMO's, food allergies, or a string of infections). Each of the seven main chakras is connected to an area of the body and corresponds to emotions based on our beliefs. (Never before has Rob Bell's teaching "Everything is Spiritual" meant so much to me.)
What I am dealing with is primarily a root or base chakra issue. The lowest chakra is housed around the sacrum and develops over the first seven years of early childhood. It relates to our family of origin and ancestry, and determines our overall feeling of well being, support, and security in the physical world.
According to brain wave studies, the first seven years of a child's life are spent entirely in a Delta (ages 0-2) and then Theta (ages 2-7) state. Theta is called the dream state (REM) and is the realm of the subconscious mind. The child's psyche has not yet developed to include rational thought, so he or she simply absorbs everything from the environment, without discrimination or judgement. The development of rational thought (the ability to differentiate right from wrong, good from bad, or even the delineation of self from others) continues until age 14 – a full 7 years! So whatever happens to the child in the years leading up to age 7 cannot be evaluated as good, bad, or indifferent during that time. It is all simply accepted and absorbed into the subconscious mind, which then forms the programs that run for the rest of his or her days.
Here's an interesting stat: 95% of your life as an adult is lived out of your subconscious mind. In other words, your day-in and day-out life is based on the programs that were placed in your psyche by other people (your parents, siblings, teachers, and caregivers) before you turned 7! So the next time you do or say something that your rational thinking mind did not intend, you will know why.
I cannot help but think of Paul's lament in Romans.
15 I don't really understand myself, for I want to do what is right, but I don't do it. Instead, I do what I hate. 16 But if I know that what I am doing is wrong, this shows that I agree that the [rational mind's intention] is good. 17 So I am not the one doing wrong; but [another power] within me.

21 I have discovered this principle of life—that when I want to do what is right, I inevitably do what is wrong. 22 I love [my good intentions] with all my heart. 23 But there is another power within me that is at war with my mind.

Romans chapter 7
What Paul called 'sin' we now know are the subconscious programs running the show of our lives. Here is where the demarcation between I and me truly exists. Only 5% of your life is run by that rational thinker inside your head. It has a slower processor than the subconscious and way less power and influence over you. (For more information, click here.)
If all of this is true, then what can be done to change the programs? How can we reverse the chronic issues and behaviors (even illnesses) stemming from something we were given basically a lifetime ago? So glad you asked! The programs of the subconscious mind can be rewritten in three basic ways.
Will Power. We all know the chain smoker who finally kicked the habit through self-denial and behavior replacement. It can be done, but it can also take a long time. And it's hard.
Reaction to a Prognosis. This is often a faster process, but the results may not be as positive if the disease has gone too far before the behavior change can take effect. Dr. Joe often asks, "Why wait until you are in crisis to change? Why not make the choice now?"
Hypnosis/Subliminal Affirmations. This is the fastest track to altering the programs of the subconscious mind. I like to call it 'hacking'. To hack your subconscious requires reentering the Theta brainwave state, which, as it happens, you do twice every day.
This chart shows the various brain wave states of a normal adult: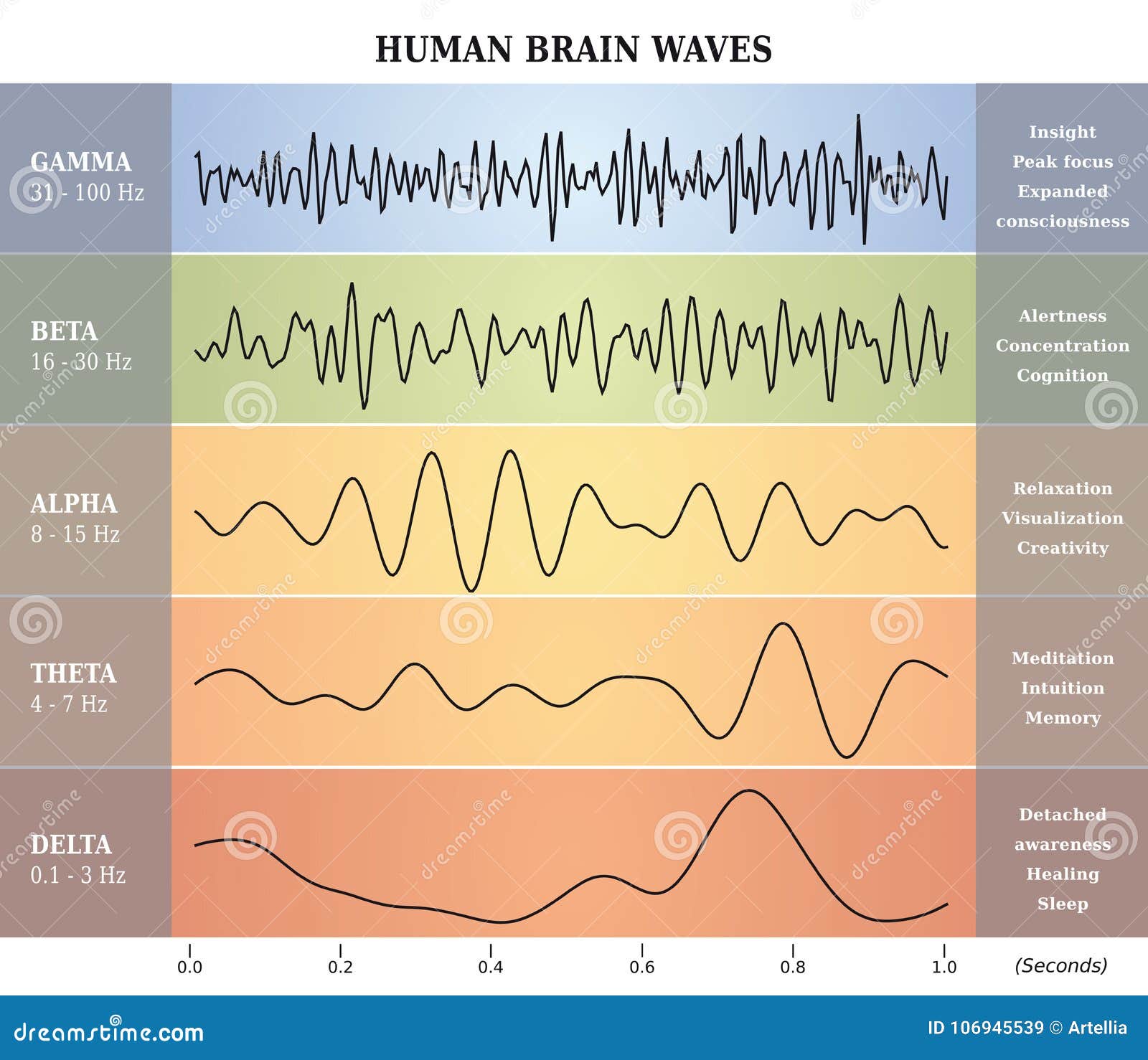 Note that the Theta state (the same state you spent your early years in) can be reached through meditation, but you also pass through it every night while falling asleep and every morning while waking up. These are the key times to feed your brain information that can alter the preprogrammed behaviors in your body. I have been meditating for about four years, but only began using subliminal hypnosis about 4 months ago. Yet I still have an overabundance of thyroid antibodies and chronic back pain of some sort. What's a girl to do?
The first thing for me was to decide that enough was enough. It is time I discover and deal with the subconscious beliefs that have been holding me captive both physically and emotionally. Clearly the meditations and QiGong exercises are taking too long – or worse, not actually reaching my subconscious mind at all!
Sometime last night I ran into information on Emily A. Francis.
Emily, the author of the book The Body Heals Itself, has a Master of Science in Physical Education with a Concentration in Human Performance and a BS in Exercise Science and Wellness with a minor in nutrition from Jacksonville State University. In 2004 Emily graduated from the Atlanta School of Massage in Clinical and Neuromuscular therapy. Immediately after, she went on to study and complete the Dr. Vodder School International for Manual Lymphatic Drainage and Combined Decongestive Therapy (graduating in 2005 and completing recertifications with the school every 3 years since). Over the years since massage school Emily has taken courses in advanced TMJ dysfunction, MLD/CDT recertifications and has become a Certified Pediatric Therapist. She holds a gold medal in the US Open in Tai Chi Form and many more credentials
You can find out more about Emily on her site, or better yet, check out this interview!
I am so ready to move past this challenge in my life, and have decided to roll the dice and place my energetic block in Emily's hands. Emily works with a local naturopath specializing in NAET and kinesiology. Dr. Tom Dill helps Emily point her therapy in the right direction. My appointment is not until mid-July, so until then, I will do what the meditation I found last night encouraged: Breathe in acceptance of this present moment and all of its circumstances, relax into the experience, then breathe out, letting go with gratitude for what the pain is teaching me about myself. It is time to face and embrace my shadow.
As always, thanks for reading.
Namaste,
C
P.S. I will be blogging about my experience with these two practitioners, so stay tuned!